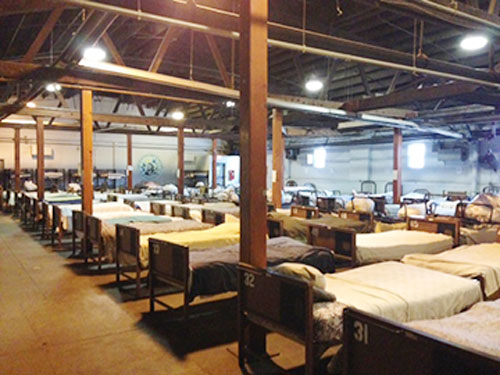 Help Someone Throughout The Year
Every night of the year, we provide safe shelter to men and women who have nowhere else to go. You can make an impact in the lives of our shelter guests by sponsoring a bed for $500 for one year. Sponsorships can be made by individuals, businesses, a family or church groups. A sign at the bed will tell everyone who stays there that someone cares for them.
By contributing to our Sponsor-a-Bed Program, for only $500 per year. Your sponsorship commitment will begin on the first day of the month following receipt of your donation, and it will last for one year from that date. Your donation will help us provide all of the services that we offer to our guests during the year, including healthy meals, safe shelter, case management, daily support services and access to specialized services like medical assistance, mental health counseling, substance use disorder treatment and more.
A customized laminated sign will be placed at the bed with a personal message from you. This message can be one of hope, support and inspiration to each guest who sleeps in your bed.
Click the button above to join the Sponsor a Bed program. In the comment section, please write your message of hope and encouragement so we know what to include on the sign at your bed.
Here are some suggestions. (All are subject to our approval.)
This bed is made possible by __________.

Know that if you are sleeping in this bed, you are in our prayers. With love from __________.

This bed is sponsored in honor of __________.

This bed is sponsored in memory of __________.

Other (subject to approval by Franciscan Outreach) __________.
If you prefer to mail a check, send your donation to Franciscan Outreach, 717B W. 18th St., Chicago IL 60616. Please make your check payable to Franciscan Outreach. Any questions? Contact Joan Brazas at joan.brazas@franoutreach.org or by phone, (773) 278-6724.