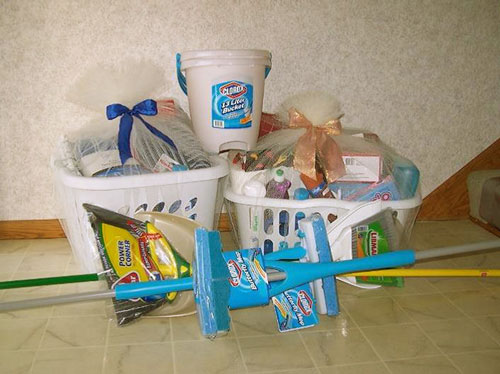 A New Home
Many of us are lucky enough to have memories of moving into a new home and all of the excitement that goes along with unpacking belongings, selecting decorations, and making the space our own. For the guests of Franciscan Outreach, a new home means all that and so much more!
For many of our guests, the excitement of turning a key and taking their first steps into a place of their own marks the end to a long and arduous struggle. It is a true turning point in their journey toward making real positive changes in their lives.
The costs associated with moving into a new home can add up quickly, particularly for those on a limited budget. By providing guests with a Welcome Home Kit, stocked with essentials like kitchen tools, cleaning supplies, and toiletries, you can ensure that our guests start the next chapter of their lives with greater confidence that they have the basic items to get them started.
Donate a Welcome Home Kit!
Consider donating a Welcome Home Kit! It's a wonderful opportunity for you and your family, friends, church group, and/or co-workers to do something together that can make a real difference in the life of someone who is transitioning from homelessness to housing.
Laundry basket/hamper to hold everything included in the kit
Place settings for four (plates, bowls, silverware, glasses, cups)
Pans: frying pan, 4 qt saucepan with lid
Bakeware: baking pan, cookie sheet
Gadgets: Strainer, cutting and paring knives, long handle spoon, spatula, tongs, can opener
Cleaning supplies: sponge, pot scrubber, broom, mop, toilet brush, dish soap, hand soap, all-purpose cleaner, dish cloth, towels, bucket, waste basket
Towels: Two bath towels, two hand towels, two washcloths
Shower curtains and rings
Toiletries: shampoo, soap, toothpaste, toothbrush, deodorant, toilet paper, paper towels
Twin size sheet set and comforter/blanket; pillow
Decorative pillows, picture frames
If you are interested in donating a Welcome Home Kit, please contact: Laura Reilly, Director of Development and Marketing at Laura@franoutreach.org, 773.278.6724.