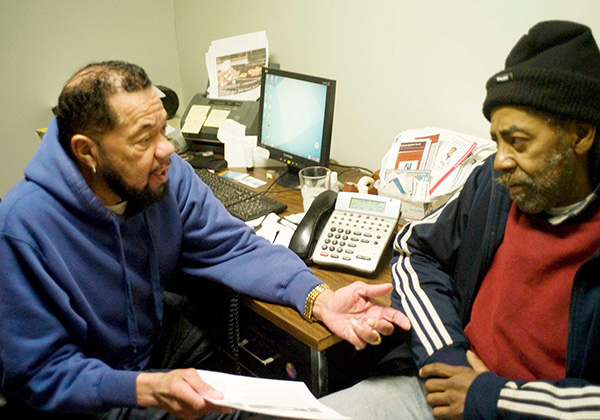 Franciscan Outreach case managers provide compassionate care and support to men and women who are marginalized and homeless as they strive to overcome personal challenges, improve the quality of their lives, and achieve self-sufficiency. Case managers meet with guests at four service sites, including East Garfield Park – Community Service Center, North Lawndale, Pilsen, and the Loop. Click here for locations.
Case managers conduct initial assessments to understand the needs of guests. Then they provide guidance to help guests address the challenges they face. Case managers help guests gain stability, prepare for housing and transition into permanent housing. They also connect guests to the critical services and resources they need including:
Identification documents

Social Security benefits

Veterans' benefits

Public aid resources

Primary and mental health services

Substance use disorder treatment

Legal aid

Job training programs

Employment opportunities

Immigration services

Housing programs
EAST GARFIELD PARK
At Garfield Community Service Center
10 South Kedzie Ave.
Days:   Monday - Friday
Hours: 9 a.m. to 5 p.m.
Day Program
Case Management – assessment, guidance and referrals

Support Services – support groups, transportation assistance, and more

Specialized Services – community partners assist with medical, mental health and substance use disorder concerns

Coordinated Entry System (CES) – assessment for housing system
FRANCISCAN OUTREACH SHELTERS
North Lawndale – 2715 W. Harrison St.
East Garfield Park – Services are available at shelter in North Lawndale
Pilsen – Services are only for guests of the shelter in Pilsen
Days:   Monday - Friday
Hours: 9 a.m. to 5 p.m.
Case Management – assessment, guidance and referrals

Support Services – support groups, transportation assistance, and more

Specialized Services – community partners assist with medical, mental health and substance use disorder concerns

Coordinated Entry System (CES) – assessment for housing system

Streets-to-Home Initiative – housing program and support

Interim Housing Program – housing readiness program