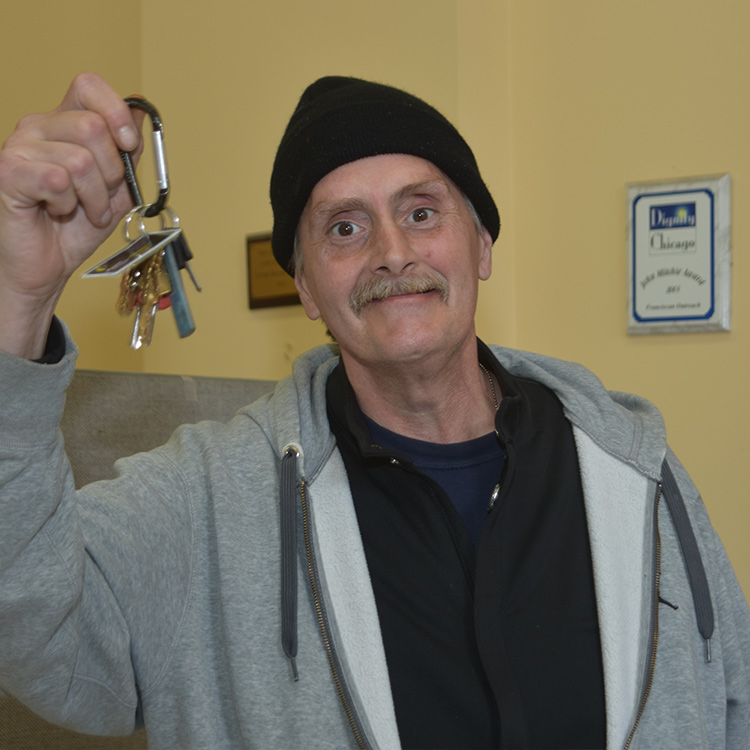 People who are experiencing homelessness are also experiencing challenges that are a direct result from trauma and other serious life circumstances, including the loss of a job and a home, a chronic medical condition, a mental health problem, a substance use disorder, a criminal background, and more. These challenges have become barriers for men and women as they strive to move forward with their lives.
Franciscan Outreach facilitates three programs and services to help guests become housing ready and transition to permanent housing including, the Streets-to-Home Initiative, the Interim Housing Program, and Housing Assessment through the Coordinated Entry System.
Streets-to-Home Initiative
The Streets-to-Home Initiative provides the opportunity for men and women who are homeless and who have become housing ready to move into permanent, supportive housing. Offered in conjunction with Chicago's Department of Family and Support Services, we provide up to 33 guests with subsidized housing. As part of the program, participants continue to meet weekly with case managers and attend peer support community group meetings. We offer the Streets-to-Home Initiative to guests at our locations in North Lawndale and the Loop.
Interim Housing Program
The Interim Housing Program operates out of our shelter in North Lawndale. This program is offered to 20 shelter guests at a time who are particularly motivated to transition from homelessness to housing. Through this program, guests are offered security and stability in their daily lives, part-time volunteer work so they may gain new marketable skills, weekly case management support, referrals to specialized services, peer support, and access to employment-related assistance. The shelter guests in this program work on building their self-esteem and confidence so they may become ready to transition into permanent housing.
Housing Assessment
Franciscan Outreach plays an important role in Chicago's Coordinated Entry System (CES), which serves as a front door to connect people experiencing homelessness to housing in an accessible, equitable, and transparent manner. Franciscan Outreach's case managers serve as Skilled Assessors for the CES. In this capacity, they assist guests in completing the Standardized Housing Assessment, which focuses on individuals' eligibility for housing. This is the critical first step toward transitioning to permanent housing. Franciscan Outreach serves as the primary CES Access Point on Chicago's West Side. We offer housing assessments at our locations in East Garfield Park  , North Lawndale, Pilsen and the Loop.