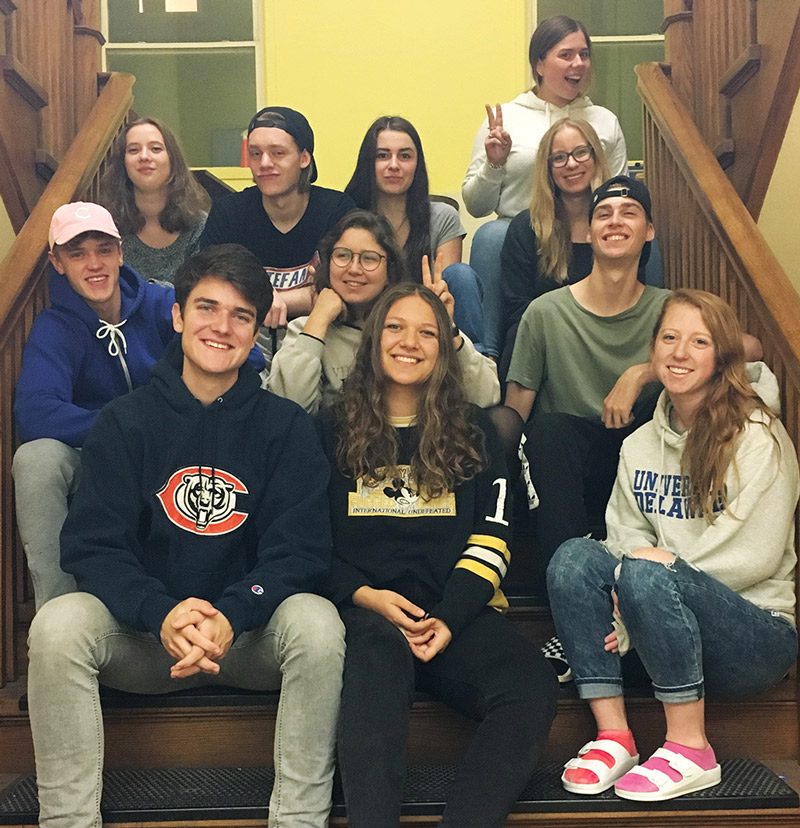 Franciscan Outreach's Full-Time Volunteer Program, provides young adults from around the world with the opportunity to dedicate a year of their lives providing valuable direct service to individuals who are marginalized and homeless. Program participants live in an intentional community based on Franciscan Outreach's core values of Hospitality, Spirituality, Community, Sustainability, and Opportunity. Each year, 8 participants provide full-time direct service to guests of Franciscan Outreach. Through their experiences, they seek transformation within themselves and for society.
We compassionately welcome and serve all men and women who are marginalized and homeless, no matter what their life circumstances may be. Every day, we offer healthy meals to those who are hungry, a warm bed for those who need shelter, vital case management for those who need guidance, and access to critical resources for those who need specialized assistance.
Program participants live in an intentional community with a common purpose of serving those in need. They practice hospitality through embracing the differences and diversity of an international, inter-religious living community and by serving with openness and compassion at their service site placement.
Inspired by the life and teachings of St. Francis of Assisi, we believe every human being deserves to be treated with dignity and respect. We are dedicated to providing compassionate care and support to all our neighbors in need. Unconditional love for all people provides the foundation for our non-judgmental, caring approach. Grounded in the Franciscan tradition, we serve everyone regardless of their beliefs, and we do not conduct or require participation in religious services.
Participants come from a variety of spiritual and religious backgrounds. They pray together, learn from each other, and celebrate their different beliefs. They enhance their personal and communal spirituality through active participation in reflections, retreats, and by learning more about the life and works of St. Francis of Assisi.
We are committed to working together as an inclusive community that welcomes and respects all people, connects individuals with the services and resources they need to enhance their lives, and promotes equal treatment and opportunity for all. We strive to create a caring, safe, and supportive community that embraces and uplifts everyone, especially our most vulnerable neighbors.
Participants share household responsibilities and take part in weekly community meetings and community nights. Each person in community relies on the others, and supports the others. Each community creates its own goals and mission statement to decide how they will further embody Franciscan Outreach's core values.
We are influenced by the teachings St. Francis of Assisi, informing us that we are deeply interconnected and inherently related to all that exists in this world. Aligned with these teachings, we are committed to being responsible stewards of every resource available to us. We are dedicated to connecting people with communities and resources to enhance their lives and to build a more equitable, just, and sustainable world.
Participants are called to sustainability, both individually and as a community. By pledging to live simply, they develop a greater commitment to service and solidarity with those they serve. They live on a small stipend, reflect on how their lifestyle choices impact others, and take steps to be responsible stewards of the world.
As a system of support, we empower men and women who are marginalized and homeless to make positive changes in their lives. We affirm their inherent dignity and value, and create opportunities for them to navigate a path toward stability, self-sufficiency, and permanent housing. We also strive to take advantage of every opportunity to make a human connection with people who are homeless and with the general public. We seek to increase awareness and understanding about the many challenges that create barriers to housing for people who are homeless, thus reshaping societal perceptions.
Participants commit to listening to the stories of the people they meet through their service sites. They commit to learning and understanding more about privilege, responsibility, and the root causes of the inequality they witness. Participants take every opportunity to inspire change in the societal understanding of homelessness, starting with themselves.
Program Details
The Full-Time Volunteer Program begins with a two-day orientation that includes an overview of the program, an introduction to community living, and an explanation of program policies and procedures. Participants also receive appropriate safety training during orientation, including CPR/First Aid training, food handling certification, conflict de-escalation training, and mental health/substance use disorder recovery training, among others. Participants from the previous year of service assist with the onboarding of their replacements and give them insight on what to expect and how to make the most of their experience.
Participants provide 40 hours per week of direct service to guests at Franciscan Outreach's three shelters in Chicago. They also serve in a variety of capacities that further Franciscan Outreach's mission. Participants live in intentional community with 8 to 10 others including a community coordinator who provides structure and support to the community.
Program participants receive:
Room and board
Monthly stipend - $200
Health insurance
Three retreats
Orientation
Individual mentor (former volunteer)
Weekly Community Nights
Weekly reflections
Educational workshops
Two days off per week
10 vacation days
Opportunity to stay on for a 2nd year
Service Sites
Program participants provide direct service under the supervision of a site supervisor who is responsible for placing, training, scheduling, supervising, and evaluating participant performance. Participants serve at locations; in North Lawndale, East Garfield Park and Pilsen.
Shelters: Franciscan Outreach operates three shelters throughout Chicago. Every day of the year, 382 men and women receive a safe place to sleep, three meals and access to programs and services. Participants at the shelters work overnight shifts, assist with the guest intake process, receive donations, and provide community volunteer supervision.
Start Date
There is no official start date for the year. Because Franciscan Outreach operates 365 days a year, participants transition in and out of the program during the months of July and August.
Apply
Because program participants are entrusted with the responsibility of supervising guests of the agency and community volunteers, Franciscan Outreach employs an extensive application and selection process.  Applicants must submit a written application including a personal statement, and provide three reference forms, participate in an in-person or phone/Skype interview, and consent to a background check.
The program's selection committee looks for individuals who have exhibited compassion and empathy toward those who are marginalized and homeless, demonstrated a sincere ethic of service, and possess great responsibility and maturity. They must also demonstrate a willingness to work hard and build relationships with those they serve. All applications are thoroughly reviewed and discussed by the program's selection committee before offers are made.
 Requirements
Applicants must be at least 18 years of age, have a high school diploma and a valid driver's license.
Applicants must be single and have no dependents.
Applicants need to have a desire to live out the Franciscan Outreach core values of Hospitality, Spirituality, Community, Sustainability, and Opportunity.
Applicants must be able to handle responsibility.
Applicants must treat guests with respect and dignity and previous experience serving people who are homeless is helpful but not necessary.
Applicants must exhibit maturity and are willing to share of themselves openly and honestly.
People of all or no faith backgrounds are welcomed to apply. 
Application Process
The application process includes an Application, Personal Statement, and three Reference Forms. We are currently accepting applications for the 2020-2021 program year. We will accept applications on a rolling basis with a priority deadline of March 1st. We will continue to accept applications after March 1st if spots are still available.
Click on the links below to access the application materials, and submit the Application and Personal Statement in 2 separate documents by email to: tayler@franoutreach.org.
References must be submitted by the reference to tayler@franoutreach.org.
Selection Process
Franciscan Outreach begins accepting applications in October. Applications will be accepted until openings are filled. Program positions begin in July and are for one year (renewable). Applications are thoroughly reviewed by staff, please note that applications will not be reviewed until complete. We will then invite selected candidates to come to our Chicago office for an interview.  We will schedule Skype interviews with international and non-local candidates. Once you have been accepted into the program, we will require proof of a valid driver's license and passage of a background check.

The Franciscan Outreach Full-Time Volunteer Program is a
member of the Catholic Volunteer Network.
Follow Us
For a closer look into the Franciscan Outreach Full-Time Volunteer Program, please follow us on Facebook and Instagram by clicking the icons at the bottom of the website.
Contact Information
Franciscan Outreach
Full-Time Volunteer Program
717B W. 18th St.
Chicago, IL 60616
Send a Message
For more information or questions regarding the Full-Time Volunteer Program, please contact Tayler Liedke, Program Director. You may also reach her by phone at 773-278-6724 or email, tayler@franoutreach.org.