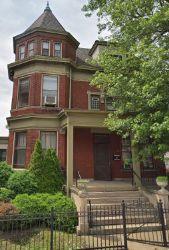 Franciscan Outreach Sells Property & Moves to Pilsen
Franciscan Outreach Sells Property & Moves to Pilsen
In 2018, we announced that the Franciscan Outreach Board of Directors made a strategic decision to sell the organization's property at 1645 W. LeMoyne, known as the Marquard Center. Over the years, Wicker Park has become increasingly gentrified. As a result, the number of guests served at that service site began to decrease. The funds from the sale of this building will be used to reinvest in our shelter program operations on Chicago's West Side.
Our reinvestment plans, include the renovation of Franciscan Outreach's largest shelter at 2715 W Harrison St. in North Lawndale to strengthen and expand the critical programs and services we provide to hundreds of men and women each day.
For several months, we met with each of our guests at the Wicker Park location to help them transition to other Franciscan Outreach service sites. We also provided guests with access to alternate resources and locations that offer comparable services, including soup kitchens in close proximity to Wicker Park.
In February 2019, the Franciscan Outreach administrative office and the Full-Time Volunteer Program office moved the Pilsen neighborhood. The new address is 717B W. 18th St. Chicago, 60616. See locations.