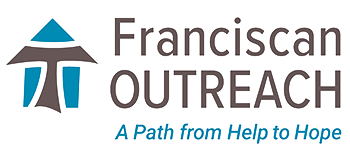 Franciscan Outreach Launches New Brand Identity
Franciscan Outreach Rolls Out New Brand Identity
After a year-long brand-building process, Franciscan Outreach is rolling out a new brand identity. Throughout 2018, Franciscan Outreach's development department teamed up with Neiger Design & Marketing to conduct extensive brand research, including interviews with key stakeholders, a brand survey, and workshops with board members and staff. The research was instrumental in shaping our new mission, vision and core values – see About Us section.
As part of the research process, we developed consistent brand messaging that is rooted in our Franciscan history of welcoming and serving all men and women who are marginalized and homeless. We aligned our messaging with a new visual identity, including our new brand mark. The brand mark includes the tau cross, a Franciscan symbol, in the center to represent the heart of our organization and is designed within a housing structure to represent the path we're helping people navigate – from receiving help to finding hope of a new home. The tagline, A Path from Help to Hope, incorporates this idea and also encapsulates our new mission and vision.
Our new brand work can be seen throughout the new design of our website and newsletter, named Positive Path, which also aligns with our new messaging – see Spring Newsletter 2019. We're introducing the use of iconography to visually describe our comprehensive system of support that we provide to our guests throughout our five service sites – see Programs & Services section.
Throughout the website, newsletter and all marketing communications materials, we're using a new standard color palette and typography. The new organic colors also gives a nod to our focus on sustainability which is a new Franciscan Outreach core value and is influenced by the teachings St. Francis of Assisi, informing us that we are deeply interconnected and inherently related to all that exists in this world. Aligned with these teachings, we are committed to being responsible stewards of every resource available to us. We are dedicated to connecting people with communities and resources to enhance their lives and to build a more equitable, just, and sustainable world.
The goal of our new brand identity is to strengthen our brand in an effort to increase recognition and build greater support for our mission.
Enjoy the new and improved Franciscan Outreach!