You Can Help Our Most Vulnerable Neighbors
Franciscan Outreach exists as a safety net for hundreds of men and women who rely on us to provide for their immediate basic human needs and who count on us to safeguard them from harm. During this COVID-19 pandemic, we are especially concerned about our guests who are most vulnerable, including people who are 60 years old or older and have underlying health conditions that put them at greater risk for illness.
We're working closely with our community partners on Chicago's West Side, including Rush University Medical Center, Heartland Alliance, Lawndale Christian Health Center, University of Illinois Hospital, and A Safe Haven to put protective measures in place to minimize the risk of illness and transmission and to address the urgent medical needs of our guests.
In an effort to increase social distancing to reduce the risk of exposure, we have installed adjustable wall partitions at the largest of our three shelters on Chicago's West Side. We're also operating all of our shelters 24 hours a day, seven days per week.
However, the immediate needs of our guests and our shelters has grown tremendously.
To provide immediate assistance, please consider making a financial contribution.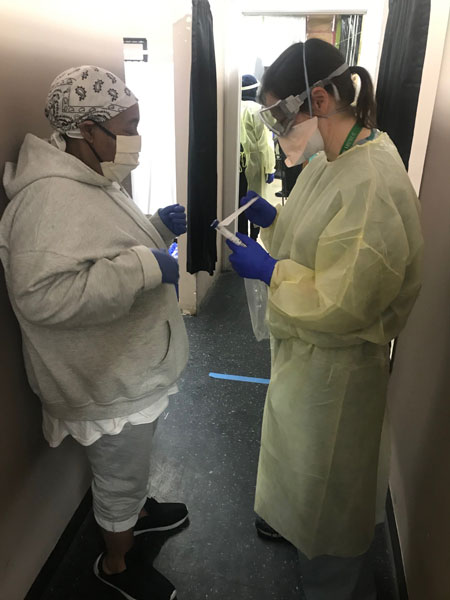 During this crisis, we're operating an additional location at a local YMCA to provide greater protection and social distancing among our guests. We're now operating four shelters 24/7. We have increased our capacity as well as our need for help.
Our guests have immediate needs for basic items such as underwear, socks, clothing, and hygiene products.
We've created an Immediate Needs List on Amazon. If you choose to purchase any of the items on this list, they will be delivered directly to Franciscan Outreach.
Go to our Immediate Needs List page on Amazon.
Select items to donate

Be sure to add the correct shipping address:
Franciscan Outreach
1856 S. Loomis St.
Chicago, IL 60608
At Checkout, add a "Gift Receipt" to provide




your contact information to receive a tax receipt.
Don't Forget to Use Amazon Smile!
Select Franciscan Outreach as your charity to support, and 0.5% of the price of your eligible Amazon Smile purchases will be donated back to us!
Here are the most urgent need items for our guests and our shelters:
Men & Women's Clothing: Sizes – Medium to 5XL
Underwear
Undershirts
Socks
Sweatpants
Sweatshirts
T-Shirts
Men & Women's Hygiene Items
Toothpaste
Toothbrushes
Shampoo/Conditioner
Soap
Hand Sanitizer
Shaving Cream
Razors
Shelter Cleaning Supplies
Disinfectant Wipes
Disinfectant Spray
Hand Sanitizer
Laundry Detergent
Shelter Food & Water
Bottled Water
Non-Perishable Food
Non-Perishable Snacks