An Important Message from Richard Ducatenzeiler, Our Executive Director
As we move toward recovery from the pandemic, we are especially grateful for your support of Franciscan Outreach.
Because of our board, donors, volunteers, and staff, we provide programs and services to men and women who are confronting homelessness in Chicago. Each day, hundreds of the city's most vulnerable individuals rely on Franciscan Outreach for healthy food, safe shelter, and compassionate care.
Franciscan Outreach has taken a proactive approach to COVID-19 health literacy from the onset of the pandemic. Starting in late February 2020, we began receiving communication regarding its inevitable spread.  Information and guidance on how to prevent and mitigate the circulation of infectious disease within emergency shelter and congregative settings was distributed by the Center for Disease Control and Prevention (CDC) and the U.S. Department of Housing and Urban Development (HUD). This included interim guidance for homeless service providers on how to plan and respond to COVID-19 through the implementation of everyday universal precautions and additional protective measures.
During this global healthcare crisis, we have all been diligently working together for the increased safety of our guests who are disproportionately susceptible to contracting COVID-19.  Improvements were made to minimize the risk of infection and transmission of the illness at all our locations and we acquired a cutting-edge rapid testing machine that allows us to detect positive results in as little as twenty minutes. In an effort to increase social distancing to reduce the risk of exposure, we installed adjustable wall partitions at the largest of our three shelters.  Our shelters are all operating 24 hours a day, seven days per week.
Our most exciting news is that all our heroic frontline staff and guests have the opportunity to receive the Moderna vaccine.  Using a trauma-informed approach and a racial equity lens, we continue to focus on strategies that build confidence around the safety and effectiveness of the vaccine among our shelter guests and staff members. As an organization we have committed to doing this by engaging in honest conversations, answering questions, and validating concerns.
All these measures, along with the unwavering support of people like you, allow us to continue to provide essential services that save lives.
The impact of COVID-19 continues to increase the needs of men and women experiencing homelessness in Chicago. Our need for your support is great, and I hope you will find it in your heart to make a financial contribution to Franciscan Outreach and support our life-changing work.  Quite simply, we cannot do our work without you.  Together, we will make a meaningful difference in the lives of many who have nowhere else to turn.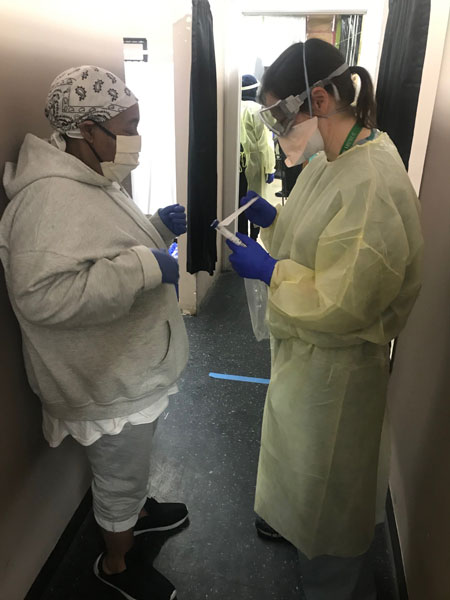 During this crisis, we are working diligently to protect the health and safety of our guests. One of the recent precautions is pausing donating of goods by individuals. 
Although we are not accepting donations onsite, we've created an Immediate Needs List on Amazon. If you choose to purchase any of the items on this list, they will be delivered directly to Franciscan Outreach.
Go to our Immediate Needs List page on Amazon.
Select items to donate

Be sure to add the correct shipping address:
Franciscan Outreach
717B West 18th Street
Chicago, IL 60616
At checkout, add a "Gift Receipt" to provide

your contact information for an acknowledgement of your donation.
Don't Forget to Use Amazon Smile!
Select Franciscan Outreach as your charity to support, and 0.5% of the price of your eligible Amazon Smile purchases will be donated back to us!