An Important Message from Our Executive Director
As the season of gratitude approaches, please accept my heartfelt appreciation for your support of Franciscan Outreach.
Because of our board, donors, volunteers, and staff, we provide programs and services to men and women who are confronting homelessness in Chicago. Each day, hundreds of the city's most vulnerable individuals rely on Franciscan Outreach. Along with healthy food, safe shelter, and compassionate care, we offer the intangible yet invaluable promise of hope. One of our shelter guests recently said,   "[Franciscan Outreach} is helping me to get what I need. I feel safe. And, I'm treated with respect."
The current surge in COVID-19 cases is presenting an increased challenge to the operation of Franciscan Outreach. This continues to be a defining moment both for leadership and our courageous shelter staff in responding to a crisis that at times seems impossible to navigate. During the ongoing pandemic, the needs of our guests have grown tremendously. People who are experiencing homelessness do not have a place to quarantine. They live in an open environment often in close proximity to others and basic necessities to safeguard against COVID 19, such as hand soap and sanitizers, are not always easily accessible. So many of our guests are 60 years old or older and have pre-existing health conditions that put them at greater risk if exposed to this deadly virus.
The sad truth is the pandemic disproportionately affects the Franciscan Outreach community.  All of our shelters are now operating 24 hours a day, seven days per week. We continue to work closely with our community partners to put protective measures in place to minimize the possibility of illness and transmission, as well as address the urgent medical needs of our guests. To increase social distancing and reduce exposure, we installed adjustable wall partitions at the largest of our three shelters on Chicago's West Side. Along with being a significant safety improvement, this addition enhances privacy and the quality of life of our guests.  Additionally, the acquisition of a cutting edge COVID-19 rapid testing machine allows us to detect positive results in as little as twenty minutes.  All these measures, along with the dedication of our board and staff, allow Franciscan Outreach to continue providing essential services and has saved lives.
I am extremely proud of the work we have done and will continue to do, thanks to the generosity of individuals like you. As the pandemic spreads, the demand for our services rapidly grows.
At this time, our need for your support is unprecedented, I hope you will find it in your heart to make a financial contribution to Franciscan Outreach and support our life-changing work.  Together, we will make a meaningful difference in the lives of many who have nowhere to turn during this uncertain time.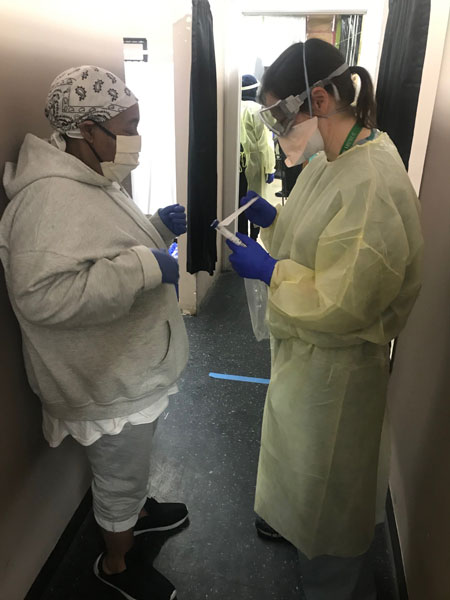 During this crisis, we are working diligently to protect the health and safety of our guests. One of the recent precautions is pausing donating of goods by individuals. 
Although we are not accepting donations onsite, we've created an Immediate Needs List on Amazon. If you choose to purchase any of the items on this list, they will be delivered directly to Franciscan Outreach.
Go to our Immediate Needs List page on Amazon.
Select items to donate

Be sure to add the correct shipping address:
Franciscan Outreach
717B West 18th Street
Chicago, IL 60616
At checkout, add a "Gift Receipt" to provide

your contact information for an acknowledgement of your donation.
Don't Forget to Use Amazon Smile!
Select Franciscan Outreach as your charity to support, and 0.5% of the price of your eligible Amazon Smile purchases will be donated back to us!